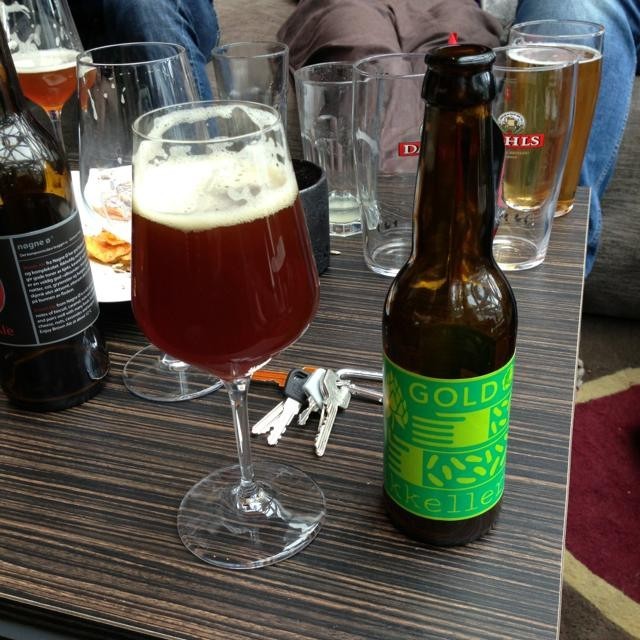 Green Gold (
Mikkeller
) pdl 0,33 l. alc 7,0% liigimääratlus: ameerika IPA
Tootjainfo: "
Mikkeller
is
ready with yet another
IPA
that is not
afraid to live
up to the name
.
The hops
is
as it should be
: aromatic
, American and
aggressive,
so you do not
have doubts about
what you
enjoy.
To
enjoy
is
what
Green Gold
is
up to
.
Karamelmaltens
sweetness and body
forms a
delicious
base
that hits
the taste buds
before
hops
explosion
sets in
and
cleans up
again and
balance
the overall impression
, so you
only
want
one thing for
another
sip.
The delicious
American
hops
simcoe
,
amarillo
and
cascade
provides plenty of
citrus notes
, but
fondles
also
your tongue with
peach
and
pine
tones and
lots of
freshness.
" 99 puntki ratebeeris ja 87 beeradvocate järgi!!!
Roheline naivistlik kujundus.Tumekollakas vaht täidab 95% kannust ja on Mikkellerile iseloomulik jääv suurus :) Õlle värvus - punakaspruun. Aroom ... ohhhh ... see on aromaatne aroom, kas teate! Mahlaselt hapukas ja vaiguselt magusakas, rosinate ja viigimarjade, kiivi ja roheliste männikäbide järgi lõhnab see klaasitäis.
Esmamekk on tihkepoolne ja mõõdukalt magus-kibekas. Kesmaitses keeratakse aga su keelele sõlm peale ... siin on VÄGA palju korraga, head lihtsat greibisust ning ananassikonservi magusust ning männiokkalist kleepjat mõrkjust. Lõppmaitse muutub veelgi jõulisemaks, keel vabiseb selle külluse ees nagu heitunud palverändur lõpuks äranähtud pühamu hiilguses. Kolm parimat HumalaJumalat ühes pudelis, see muudab su alandlikuks, kas tead! Järelmekk taandub tasapisi jälle hoomatavaks männiokka ja sipelghappe segu sarnaseks - nagu lapsepõlves, kui torkasid pulgakese sipelgapessa ning ootasid kuni sipelgad selle oma happega üle piserdasid. Kuigi piibellikult külluslik, on see rüübe samas väga värskendav!
Kesmisest raskema kehaga, tugevalt kleepja paletiga, mõrkjas-hapu-vürtsika buketiga väga-väga nauditav rüübe. Kui siin oleks veel törtsuke magusamat keha juures, siis viskaks jalad seinale ja ütleks, et parim õlu on leitud. Kuid õnneks on parim õlu alati ees :)
---------
pilt
siit