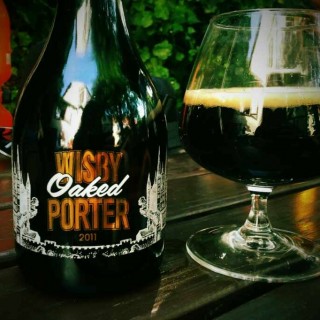 Wisby Oaked Porter (
Gotlands Bryggeri
). pdl 0,33 l. alc 8,5 % liigimääratlus: ühe allika järgi "Imperial/Strong Porter", teise järgi "Export Stout ".
Tootjainfo: "
An exclusive

tribute to the

longtime

Gotland porter

tradition.

A

fresh

and

aromatic

beer

perfect

for

oysters and

shellfish.

Available

in the

restaurant

range

from 1

/10.





Scent




A marked

aroma of

dark

roasted malt

with

hints of chocolate,

coffee

and vanilla.





flavor




A

rich body

with

balanced

malt

sweetness

and hop

bitterness

offers

a

clear

long

aftertaste

of dark chocolate

, dried figs

and

vanilla

from

barrel.
"
Väga muhe pudelike - meenutab oma kujult tööstuslikke meskimisastjaid - ja tumedale klaasile prinditud valge-kuldne silt ... kujunduse eest tuleks sellele õllele anda 10 punkti viiest võimalikust :) Silma torkavad kaks daatumit - 2011 sildi keskel ja "parim kuni 2021". Olen kindel, et siis saavutab see õlu alles õige küpsuse.
Tume hallikaspruun vaht täidab 90% klaasist ja on väga püsiv. Õlle värvus - öise koopa lootusetu must.
Aroom mõjub mõrkjasmagusalt, veidi rummiselt ja kovikreemiselt, lisaks on selgelt tunda viigimarju. Esmamekk ... õujee ... see on mõnus, kergepoolse algsuga, kuid väga maitsev, puuviljane, kakaone ja veelkord puuviljane. Keskmaitse muutub lausa priiskavalt ja liiderlikult troopiliseks, siin on koos nii kakao-oad kui viigimarjad, koolapähklid ja rumm. Lõppmekk taandub pisut leebemaks, õhates mõnulevalt kakao-likööri ja pähklite, vaniljekreemi ja kokakoola järele. Järelmaitse paneb suuales säedelema vaid keset ookeani nähtava tähistaeva ja kohama pikad rasked lained. Oisajutt, kui nauditav see rüübe on!
Keskmise kehaga, õlika paletiga, magus-hapukas-mõrkja buketiga erakordne rüübe. Ei siin pole söögist juttugi, ehk ainult mõni viinamari või mahlast tilkuv pirnilõik korraks põske pista ... ja siis jälle võrkkiiges lebotada!
---------------
pilt
siit