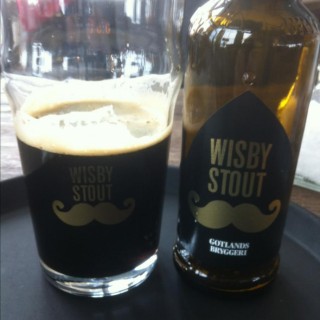 Wisby Stout (
Gotlands Bryggeri
). pdl 0,33 l. alc 5,0 % liigimääratlus - kuiv stout.
Tootjainfo: "
"
Brew
Master
Johan
Spendrup
has landed in
a jet black
brew
that is slightly
drier and
also
slightly harder
than
roasted
superstar
Guiness.
Icing on the cake
is
a touch of
smoked malt
that actually
raises
Wisby
Stout
to a level above
its famous
role model.
After a couple of
Guiness
you are pretty
satisfied after
two
Wisby
Stout
wants to
have another one.
"
Scent
Clear
roasted
malt
tone with
hints of coffee
and
toasted almonds
.
flavor
Distinct
nature
of
dark
roasted malt
with hints of chocolate
and a
long finish
bitterness.
"
Väga muhe disain - mustal taustal kuldsed vuntsid :) Nelja sõrme laiune hallikaskreemikas vaht püsib kui makrofleks. Õlle värvus - vähese punaka helgiga must.
Aroom mõjub väga mõnusalt, täidlaselt ja kuidagi ... lausa lihalikult! Röstlinnased ja peaaegu et tajutavad grillsöed ... ning tehke või tina, aga Gambrinus tajuks siin kui küpseva talleliha lõhna! Mõnnnna ja isuäratav on see, kas teate!
Esmamekk on kerge ja lubatult kuivapoolne. Keskmaitse mõjub hapukalt ja veidi kehatult. Lõppmaitse annab välja korraliku portsu röstlinnaseid koos õrna ja õhulise šokolaadikreemise olekuga. Ning alles järelmaitses vallandub taas kõik see mõnus, kerge ja samas nii meelitav lõkkesuitsune, röstleivane ja tuulkerge olek, mis oli tunda lõhnas.
Kerge kehaga, õrnalt karboniseeritud, mõrkjas-hapu buketiga kerge ja kuiv rüübe. Sobiks parimal moel sütel grillitud toidu kõrvale või ka omaette tiksumiseks, sobides ka pikema õhtu täiteks.
------
pilt
siit